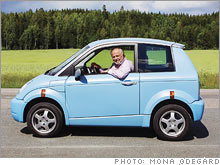 A Norwegian firm is looking to produce a new electric car with a range of ~112 miles on a charge and a top speed of 62mph.
Tesla Motors CEO Martin Eberhard flew to Oslo to take a spin and sent back his people to hammer out a deal to supply Think with high-power lithium-ion batteries. An executive from PG&E, the giant California utility, dropped by during his vacation to talk about giving Think a foothold in the Golden State. Dean Kamen, inventor of the Segway scooter, paid a visit, became an investor, and is now working on what could be the next breakthrough in automotive technology
This all sounds great I'd love one if Think want to send me one - I'll try it out and give them a review. If it is any good I might even buy one.
---
Think CEO Jan-Olaf Willums takes the wheel. Willums, looking slightly rumpled like the academic he once was, turns the ignition, and the stub-nosed coupe silently rolls toward an open stretch of pavement. Suddenly he punches the pedal, and the car takes off like a shot, the AC motor instantaneously transferring power to the wheels. The only sound is the squealing of tires as Willums throws the little car into a tight turn and barrels back to where he started.
Willums's pitch is this: He's not just selling an electric car; he's upending a century-old automotive paradigm, aiming to change the way cars are made, sold, owned, and driven.
The company will sell cars online, built to order. It will forgo showrooms and seed the market through car-sharing services like Zipcar. Every car will be Internet-and Wi-Fi-enabled, becoming, according to Willums, a rolling computer that can communicate wirelessly with its driver, other Think owners, and the power grid.
Think plans to sell the car but lease the battery as a way to overcome one of the biggest conundrums of electric cars. The battery is by far the most expensive component of the City, which will list for about $34,000 in Norway. Take the battery out of the equation, and Willums says he can sell the car for about $15,000 to $17,000 in the United States, with a "mobility fee" of $100 to $200 a month that might also include services like insurance and wireless Internet access.
This looks sweet, I want one.